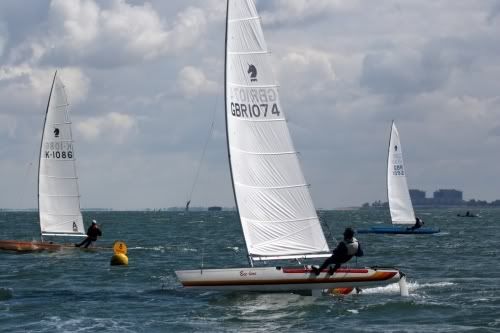 Edward, A Horse Is A Horse, Of Course, Of Course,..How About A Unicorn?
Sorry Steph, saying no to multi-hulls is verboten here at "The Horse's Mouth."
Why a Unicorn?
It can be built at home.
No crew problems - "Hey Phil, do you want to go sailing today? No thanks Joe
my wife and I are going up to Wine Country."
Easy to rig and launch single-handed
18ft waterline means good handling in sea conditions
Trailer fully assembled
Very light weight, hulls and cross beams 60kg minimum,
all up sailing weight 108kg minimum
Can be sailed for fun two up
Strict class rules but significant but flexibility in the design of rig and variation in
hull shape and materials
The Specs:
Single handed National 'A' class cat (A Cat baby, A Cat!)
Trapeze and una rig
PY of 775, ISAF 1.09
Length 5.49m (18ft)
Beam 2.29m (7ft 6in)
Sail Area 13sqm
Mast Height 7.93m (26ft)
Superb boat in light winds with high performance up to F6 due to the
flexibility of the rig settings
Daggerboards for high efficiency and superb pointing
Flexible mast with loose footed main. Adjustments to outhaul, downhaul,
kicker and lower shrouds.
With a full cut sail this gives terrific scope for control of sail shape
Trapeze for the ultimate sailing challenge
Una rig for simplicity of sail handling (13 sqm sail area to A class specification)
Edward, a wire does not make a boat complicated. Check out the Wiley Wabbits
that sail out of Berkeley.
Tags: boat building, beach cats, a cats, catamaran sailing, unicorn catamaran, sailing
Powered by Qumana