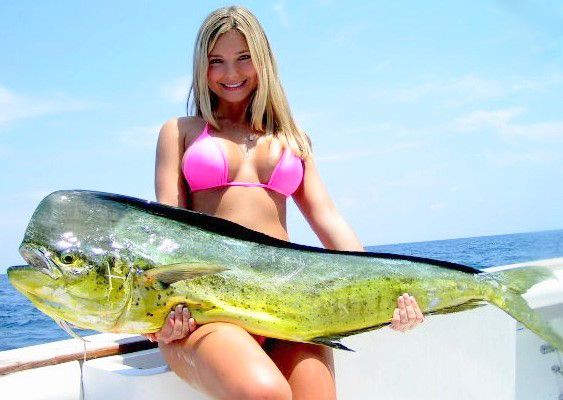 Have you ever eaten a dolphin?
Not Flipper, but the fish above. You do see the fish?

From the Ichthyology Department at the Florida Museum of Natural History:
The common English name for this fish causes much confusion. The fish known as the "dolphin" is not related to the marine mammal of the same common name (family Delphinidae). Additionally, two species of dolphinfish exist, the common dolphinfish (Coryphaena hippurus) and the pompano dolphin (Coryphaena equiselis). Both these species are commonly marketed by their Pacific name, mahi-mahi.
Common English language names include dolphinfish, dolphin, common dolphin, common dolphin fish, common dolphinfish, dolphin fish, green dolphin, mahi mahi, and mahi-mahi.
Other common names are ailai (Tamil), anfalous (Arabic), avlis (Tamil), badahlen (Tamil), bakhti bakhti (Arabic), belitong (Malay), cabishot (Papiamento), chapeau gouverneur (French), clic (French), corado (Spanish), corifena (Rumanian), coryphene commune (French), dakaunomoutas (Greek), dauphin (French), delfim (Portuguese), delfinka (Slovene), dhiya vannava (Sinhalese), doirado (Portuguese), doirado-de-topete (Portuguese), doirado macho (Portuguese), dolfiini (Finnish), dolfijn (Dutch), dolfijnvis (Dutch), dorad (French), dorade (Afrikaans), dorade coryphene (French), dorado (Spanish), dorado delfin (Spanish), dourada (Portuguese), dourade (Spanish), dourado (Portuguese), dourado comum (Portuguese), drader (Papiamento), dradu (Papiamento), ersuuch (Paluan), fei niau fu (Mandarin Chinese), fulusi (Swahili), galvannava (Sinhalese), goldmakrele (German), golok (Malay), goudmakreel (Dutch), guldmakrel (Danish), guldmakrill (Swedish), gullmakrell (Norwegian), ikan lumadang (Malay), ikan lumba (Malay), ili koni (Gela), kadapangan (Makassarese), kal vanna (Tamil), koko (Marshallese), koppurai-kula (Tamil), korifene (Albanian), koryfena (Polish), lambouqa (Arabic), lambuka (Arabic), lampuga (Italian), lampuka (Maltese), lemadang (Malay), llampuga (Spanish), lobo (Portuguese), mahi mahi lapa (Hawaiian), mahi mahi oma (Hawaiian), mahihi (Hawaiian), man-sae-gi (Korean), masimasi (Samoan), mladang (Javanese), msi'a amerikano (Arabic), ngau tau yue (Cantonese), pandje (Komoro), parang (Malay), raaman (Hebrew), rad hava (Sinhalese), radheva (Sinhalese), sapatorra (Portuguese), scubaan (Somali), shiira (Japanese), te masimasi (Tuvaluan), te takua (Kiribati), tepoar (Carolinian), ti klik (Creole), tolofine (Niuean), toohyaku (Japanese), vanna (Tamil), and vannava (Sinhalese).
Technorati Tags: fish on fridays, fishing, wahines, dolphin, can you say mahi-mahi?, fish education