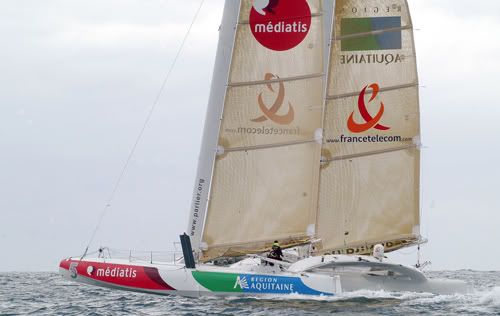 The Super Fast Cat, Médiatis Région Aquitaine, whose video I showed last week, has capsized west of the Canary Islands.
The capsizing took place during the second attempt at the record for the solo 24-hour distance run after an aborted first attempt in April. The skipper was rescued by a passing Chilean Cargo Ship. The skipper of the hapless cat, Yves Parlier said, "The boat began accelerating by lifting the hull. I had difficulties to slacken the main sail to slow down. I went out on the deck and I managed to slacken but nevertheless, the boat gradually overturned on the edge and I fell towards the opposite hull. 15 minutes later, the boat had returned."
Fear of capsizing is what scares most people off of sailing cats around the world.
Source Sailhead.